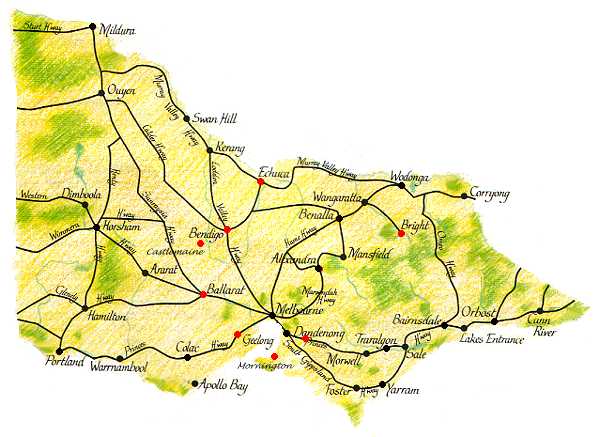 Places to Go

Northern Metro Tour
Western Metro Tour

Events Listed
Other Links
Victoria at a glance
AREA: 227,600 sq. km
POPULATION: 3,500,000
CAPITAL: Melbourne (3,000,000)
CLIMATE:Highest temp. 50.8° C at Mildura in the north-west. -12.8°C at Mt. Hotham in the Highlands. High rainfall with extremes of heat in summer in the western and north western regions.
Melbourne was first settled in 1835. Victoria is Australia's smallest mainland state with 1800 km of coastline. Known the 'Garden State', a reference to the rolling green hills and valleys which make up the majority of the state, and varied in scenery, it is has much to offer. To the north the mighty River Murray makes up the bulk of its border to New South Wales, while to the east and south, the Tasman Sea, Bass Strait, and the Southern Ocean have carved out a spectacular coastline which varies from golden beaches to stark outcrops such as the Port Campbell National Park. Also in the north is the Alpine National Park, a skiing area which offers winter sports from around June to September, and mountain-climbing and exploration throughout the rest of the year.
In the west of the state, close to its border with South Australia, desert wilderness areas can be seen. The Little Desert and Wyperfeld National Parks are renowned for the wildflowers which bloom throughout the year, mainly around September, and are popular walking and exploring parks.
Among the major attractions of the state is The Grampians National Park, west of Melbourne. This beautiful area offers walking trails, spectacular lookouts and lake swimming and fishing. South-east of Melbourne, Phillip Island is a popular place to observe the nightly procession of pengiuns returning to their nests after a days activities. The capital of Victoria, Melbourne, enjoys the reputation of being Australia's Cultural capital, and this is reflected in the many live shows which are presented at the theatres which abound in the city.