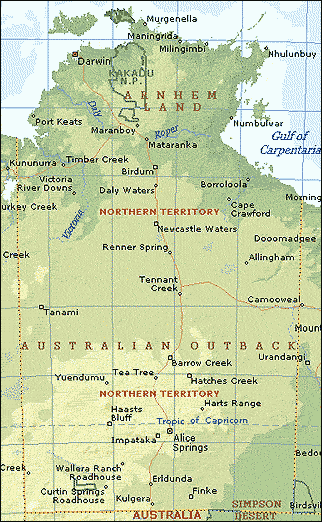 Places to Go
Events
Other Links
Northern Territory at a glance
AREA: 1,346,200 sq. km.
POPULATION: 160,000
CAPITAL: Darwin (100,000)
LOCATION: In the Central-north of Australia between Queensland and Western Australia, and north of South Australia. CLIMATE:Highest temp. 48.2° C at Charlotte Waters; lowest -7.5° at Alice Springs. The Top End has a high rainfall in the 'Wet Season' (Nov.to March) with warm winters due to its proximity to the equator. The southern section has mainly hot, dry weather with very cold winter nights.
Darwin was first settled in 1839 after 2 previous attempts.
On Christmas Eve, 1974 it was practically obliterated by Cyclone Tracy and was rebuilt over the ensuing years with cyclone proof houses and is now Australia's most modern city.
It is also one of the fastest growing. Prior to the cyclone there was a population of around 44,000, there are now over 100,000 people living in and enjoying Darwin.
In the south, Alice Springs began as a repeater station on the Overland Telegraph Line between Adelaide and Darwin and grew slowly as people congregated around the tiny settlement. It was not until the railway line reached there in 1929 that the town began to prosper.
The main industry of the Territory is beef cattle and massive stations measured in thousands of square kilometres comprise around half of the state. The other half is occupied by aboriginal groups and a permit is needed to access much of this land. Uranium is mined in the mid-north and Tennant Creek has copper mines.
The Northern Territory contains two of Australia's best known attractions. Kakadu in the north, and Ayers Rock (Uluru) in the south.